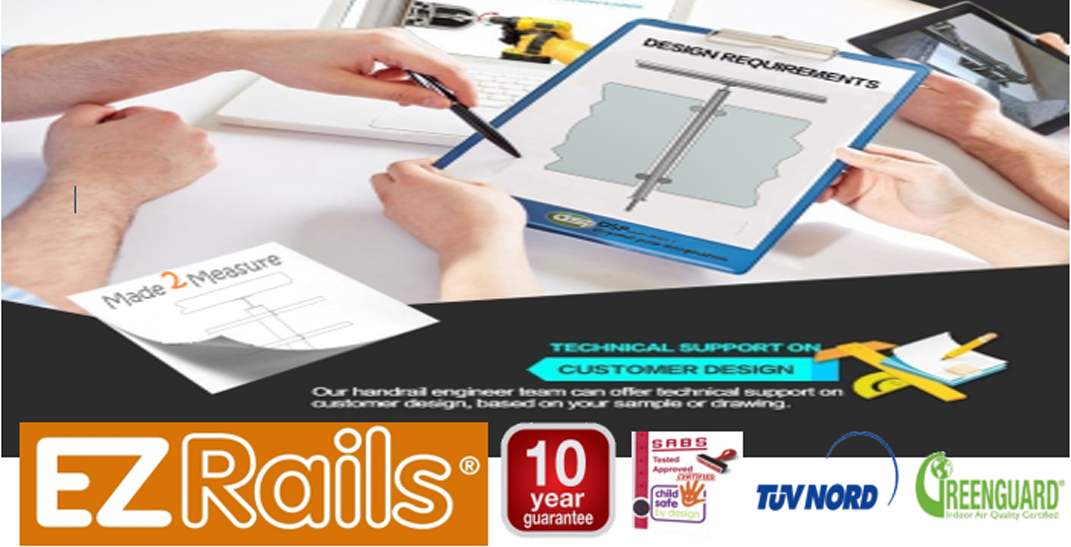 DO-IT-YOUR-SELF with NO hassles, it's that EZ!
EZRails Saves Lives!
EZRails Made 2 Measure, is the easiest, safest balustrade system to install on site, with only basic hand tools! 
YES, no welding, no grinding, no joining, no drilling, and no polishing required!
Not to mention, YOU DO NOT HAVE TO BE A POFESSIONAL TO INSTALL!
Best left to EZRails design house, the professionals in D.I.Y Balustrade Systems. DSPSA, has been in the balustrade industry for 30 years with a proven track record. 
Structural engineered and tested to meet all specifications
Fixing in accordance with engineering specifications
All materials have been tested & have SABS Certification
Cuts installation time by a third which saves time and money
Custom made to fit with no fixed sizes
Arrives on site pre-manufactured complete ready to be installed
Only use hand tools
Simple seamless installation process
Unlike any other balustrade systems out there
Local manufactured
EZRails design complies with all the latest international safety requirements set for today's designer trends. We supply to over 30 countries. 
EZRails offers a 10 year guarantee, to back it up!
For more information on your wide range of products & services, please contact us on
Tel: 010 040 7892 or sales@ezrails.co.za